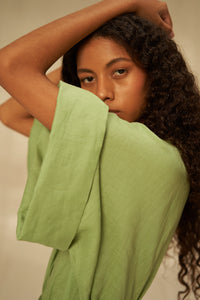 TIMELESS FASHION FOR A CONSCIOUS WORLD
With a purpose that goes beyond being a timeless fashion brand,
Pinkfilosofy shares its Be eco, be conscious initiative, a lifestyle that seeks
to generate awareness in each of the people who have contact with the brand and how it relates to she. Proposing responsible practices that help care for garments to give them greater durability by reducing their environmental
impact.
LESS WATER, LESS CHEMICALS, MORE AWARENESS
Pinkfilosofy, aligned with this initiative, works with eco-friendly
materials such as Tencel and Denim, includes processes that generate the least possible water consumption, such as in the Denim and printing processes, the labels are made from sugar cane residues, they are constantly works on reducing final processes in communication pieces, in order to allow their subsequent recycling. Orders are sent in cloth bags, made in the company's workshop with leftovers from different collections. Pinkfilosofy offers safe working conditions for its employees, adequate work spaces, wages and fair working hours. 100% of the products are manufactured in Cali, Colombia, thus supporting the development of the local economy. Additionally, Pinkfilosofy has been part of different initiatives and collaborations of a social nature, with foundations such as Casa en el Árbol and Ellen Regnier de Casas.